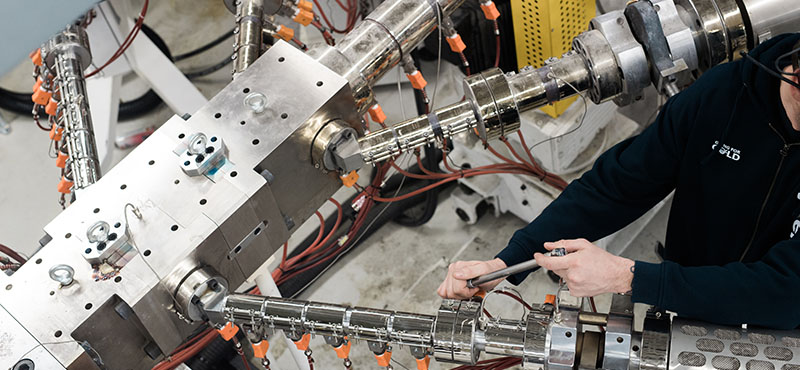 Scanfill with EVOH barrier
Scanfills materials with EVOH barrier is an environmentally friendly alternative with high barrier properties and great possibility to choose colors and surface structure on your packaging.
Scanfills materials with EVOH gives valuable and sensitive food, like meat, fish and chicken, that needs to stay fresh in the store for a long time, a longer shelf life. They are environmentally friendly and recyclable materials with good barrier properties. Combined with the correct sealing top web you are able to create a packaging that keeps the food fresh longer.
In order to meet the market's demands of even better barriers, we have invested in modern machines that can produce foil with up to seven layers. This enables the production of materials with a barrier layer of EVOH; the most frequently used polymer to block, for example, oxygen from penetrating the packaging.

The future material for packaging
The barrier given by the Scanfill materials with EVOH is market-leading and when combined with a bio-based material, they are groundbreaking. They are produced in three standard thicknesses; low, medium and high, but can also be customized to meet the customer's unique needs.
Scanfill EVOH can also be used in applications where the product is sterilized for longer shelf life. 
You can also use Scanfill EVOH in applications where the product is sterilized for longer shelf life. One of EVOH's disadvantages is high sensitivity to water and steam, which can affect the life time of the product. We solve this problem by putting material with minerals on both sides of the barrier layer.
The Scanfill materials provides a better barrier to water than for example polypropylene (PP), polystyrene (PS) or PET. This makes the EVOH-barrier more effective and prolongs the freshness of the product.
Product sheet
EVOH barrier is possible in all our materials for thermoforming