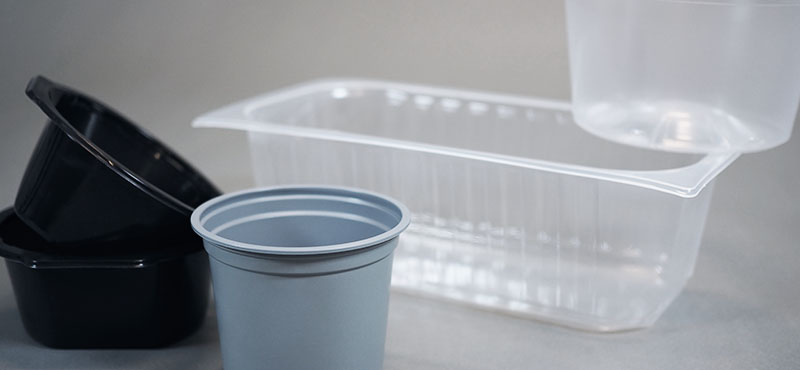 Scanfoil PP (polypropylene)
Scanfoil PP is one of our environmentally friendly packaging materials. It is a thermoforming foil with good forming properties and is available in transparent or multiple colors. The level of clarity can be designed to fit different needs.
Scanfoil PP is food approved and can be used for chilled food, frozen food, and ready meal for microwave oven heating. The material is suitable for cold-, warm-, hot filling, and retort sterilization.
Scanfoil PP Soft Touch is an alternative to regular PP options with a matte surface that has an exclusive soft touch and look. Soft touch gives a low friction effect in stacking, making it easier to feed packaging machines.
Scanfoil PP is suitable for various applications and segments, for example electrical components, industrial applications, and secondary packaging.
The Scanfoil PP material is fully recyclable and the material group with the highest demand on the recycling market.
Scanfoil PP HiClear
Scanfoil PP HiClear transparency is comparable with APET or PS and a great alternative with a greener profile. HiClear has the same attraction in the recycling market as a regular PP.
HiClear is an excellent choice for sustainable food packaging and packaging where visibility is in high demand. It is possible to choose an additive that counteracts condensation (Anti-Fog). It is useful for both chilled and hot applications.
Scanfoil rPP
Scanfoil rPP is the greenest alternative seen from the aspect of environmental impact. The level of recycled content can be up to 100%, depending on the requirements of the application.
The possibility of using both post-consumer and post-industrial waste is available, also depending on the project requirements.
100% rPP usually is available in dark shades, but it is possible to use other colors in a foil that is partly recycled. This opens up an entirely new colorful world with endless possibilities in the design of plastic packaging.
Data sheets