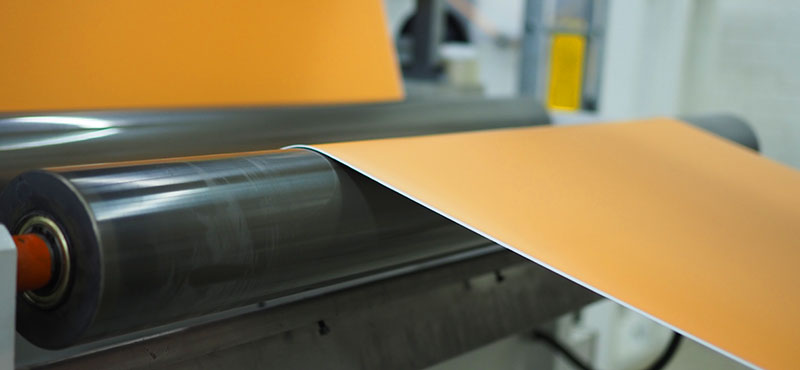 Scanfill Extrusion
Scanfill Extrusion is a sustainable and fully recyclable material for extrusion of foil, with high thermal conductivity and excellent forming properties.
The Scanfil Extrusion material grade is used for thermoformed packaging and consists of 48% polymer and 52% mineral, which also reduces the polymer content by more than half.
In addition to enormous environmental benefits, the mineral gives both strength and stiffness, enabling a thinner foil to be produced. That compensates for the higher density of the Scanfill material. The material needs to be pre-dried before extrusion in order to prevent it from becoming brittle. It is co-extrudable and can be colored. Furthermore, the foil has a matte surface. 

The material is mineral reinforced which gives increased strength and stiffness.
The mineral content gives the material higher thermal conductivity and better forming properties. This, together with a lower proportion of polymer, gives an increased production speed. Our customers show increased speeds of between 30% and 100% compared to polypropylene. 
Other benefits from Scanfill Extrusion for extrusion of foil
Increased barrier due to longer path for gas molecules to pass through the material (oxygen and water vapor, OTR & WVTR).
Lower energy consumption in foil extrusion due to less polymer to melt, increased thermal conductivity and higher friction and shear in the extruder.
A stiffer material that enables down gauging and weight compensation. 
The material is mineral reinforced which gives increased strength and stiffness.  
Scanfill Extrusion is available in granular or foil form. For the foil form, which we call Scanfill Foil, there are options for color, appearance in form of matte and/or gloss, and if it should contain a barrier layer.
Read more about our other material for foil extrusion