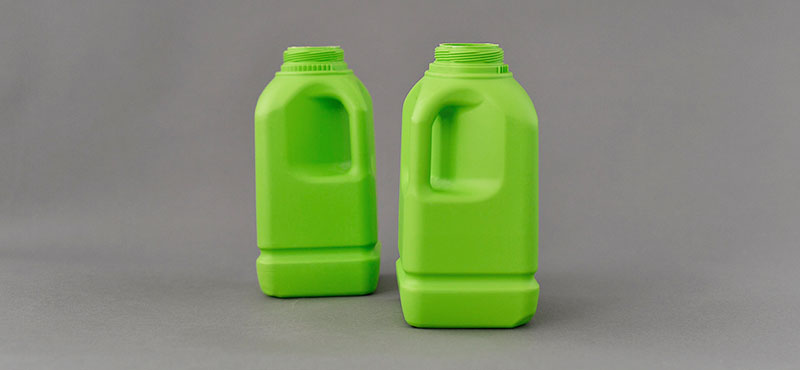 Scanfill BIO Bottle
Scanfill BIO Bottle is our more environmentally friendly extrusion blow moulding alternative. It is based on, among other things, sugar cane instead of oil-based raw material.
Scanfill BIO Bottle has the same advantages and similar properties as Scanfill Bottle, but this is an even more environmentally friendly and sustainable alternative. The material is designed for extrusion blow moulding and consists of 55% PE and 45% mineral. This gives, among other things, the material a built-in light barrier, a better thermal conductivity and an increased strength and stiffness compared to a traditional PE bottle.
Scanfill BIO Bottle can be produced in existing moulds. 
The difference between Scanfill Bottle and Scanfill BIO Bottle is that fossil-based PE is replaced by bio-based PE to make the material even more environmentally friendly. 
BIO PE is produced with raw material from the sugar cane plant. This is a more sustainable alternative and has a lower CO2-impact on the climate.
Scanfill BIO Bottle has lower energy consumption in the extruder before the bottle blowing step, since it has a lower amount of polymer to melt. The material has increased heat conductivity and higher friction and shear in the extruder. This leads to shorter cycle times as well as increased and more efficient production.
More about our other material for extrusion blow moulding