A juice bottle can become a flowerpot, which can then become a part of a car and eventually a new chair. Does that sound impossible? Well, it's actually the opposite. It is called spiral economy and it helps us to improve the environment. 
After each trip to the grocery store, our refrigerators are filled with packaging, many of them made of plastic. But what happens next, when the packaging has served its purpose and is left for recycling? 
A large portion is burned, but there is another, much more environmentally friendly solution. It's possible to create a new life for previously used materials, in a different form and with a different purpose. 
– Don't throw away the resources we have, maximise their value instead and optimize these resources. It's all about using the right materials in their proper places, says Oscar Hugoson, Executive Vice President at Scanfill AB, which creates new valuable raw materials based on materials that already exist, and which have already been used.
– We work to ensure that recycled plastics have an important role to play in a spiral economy and that, which has been used in one industry, can be reused in another. Recycling is a challenge that no industry can solve alone, but we can solve it together and ensure that Sweden becomes a leader in using recycled materials.
Plastics reduces impact on the environment 
The family company Scanfill from Ystad manufactures packaging materials from fully recyclable raw materials. At Scanfill, environmental consideration is present throughout the entire process. The waste energy produced in the factory heats up the offices and more energy is saved by recycling the produced plastic several times. Additionally, Scanfill's own material halves greenhouse gas emissions. 
– We believe that plastic is the best material to increase sustainability, reduce the impact on the environment and achieve a successful spiral economy. Our material is 100 percent recyclable and meets the futures highest environmental goals already today. We work resource efficiently and of course recycle all our waste, says Oscar Hugoson. 
– But plastic should never end up in either the sea or nature. Waste is a new valuable raw material; it is the foundation of a sustainable society and we see an endless spiral. 
An open mindset in a closed loop 
Scanfill's idea of a spiral economy is about a sustainable plastic cycle, where the material is used for as long as possible before it becomes energy, but it does not necessarily need to be recycled into the same thing. Instead, a juice bottle can become part of a car, which then becomes a flowerpot, then a chair or the foot of a lamp.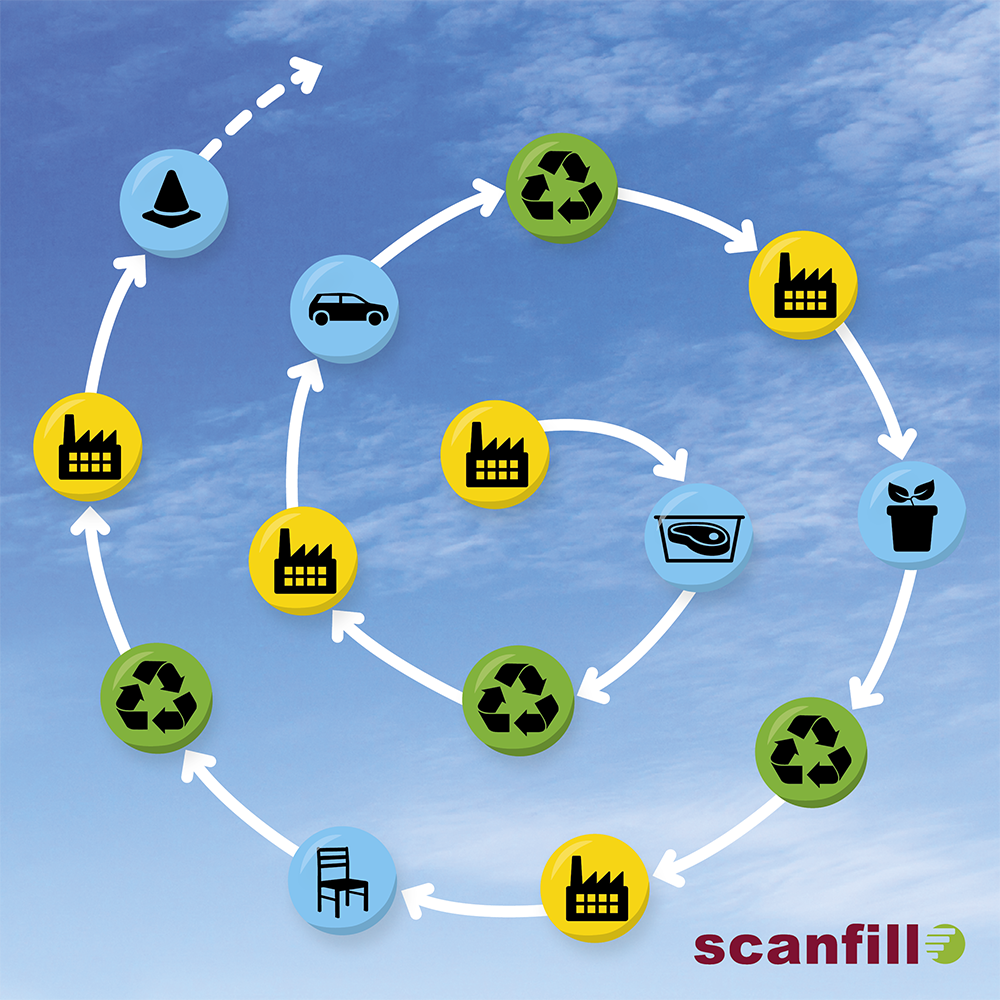 – The material already exists; it's about thinking broadly and taking advantage of what we have. What is waste for one industry can be a valuable raw material for another, says Oscar Hugoson.
– Let's have an open mindset in a closed loop. Let's see materials as more than waste. They have new areas of use, there are exciting new business opportunities and recycling is never the end of the chain. It's the start of something new.