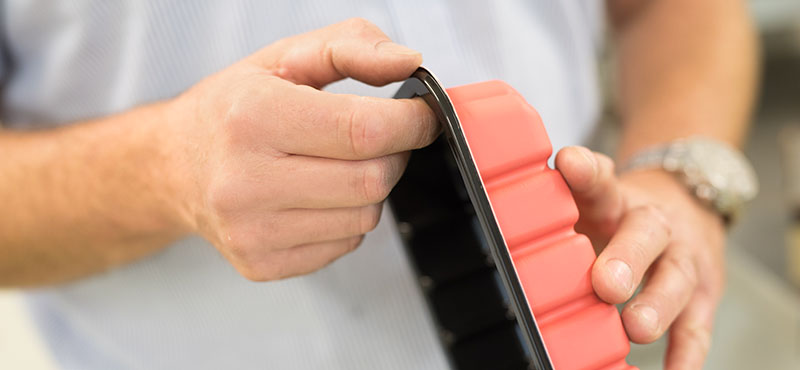 Scanfill Foil
Scanfill Foil is the name of our environmentally friendly and sustainable foil for thermoforming. It gives the customer a material with both excellent barrier properties and great options concerning the choice of surface structure and color.
At Scanfill, the environmental aspects are extremely important. We can proudly state that as high as 75% of our foil can consist of recycled materials and contain 52% minerals.
This means that we lower the environmental impact and at the same time deliver a very high quality product. 
We can produce Scanfill Foil in different colors on both the outside and inside of the packaging.
The surface of the foil can be given a matte finish to enhance the soft feeling and at the same time be printable.
This will give the customer great opportunities when the outside of the product is designed.
The high amount of minerals gives the material both strength and stiffness.

We can also deliver the material with a layer structure of up to seven layers, which gives us the opportunity to include an EVOH based gas barrier.
Another important detail is that the mineral reinforced material is approved for direct food contact (OM4 and OM5). This means that it is both freezable and microwave resistant.
Advantages by using the Scanfill foil for thermoforming 
The high amount of minerals gives us several advantages compared to for instance polypropylene or polyethylene. The Scanfill Foil-foil for thermoforming has a better gas barrier that makes the passage of oxygen and water steam into the packaging more difficult. The Scanfill Foil is also recyclable with polypropylene (PP) and NIR detectable as PP.
Our foil has a lower energy consumption in the 
thermoforming process.
Because of the minerals, giving higher thermal conductivity, our foil has lower energy consumption in the thermoforming process. This enables quicker heating and cooling, which, in turn, leads to shorter cycle times.
The mineral, which is compounded into the packaging material, also gives the material increased strength and stiffness. This means that we can weight compensate by reducing the wall thickness of the packaging.
Read more about our other materials for thermoforming